"Don't dream your life, but live your dream"
Our history began in 2006 when we bought our first Arabian mare, Ta Annug KSI, the foundation of Nafiesa Arabians. In the years following it slowly turned into a passionate and successful Arabian horse breeding. The result of our breeding can be found worldwide in breeding, sport and show.
After years of renting a farm we decided to see if it's possible to follow our dream to own a farm. Dreams come true!
"Don't dream your life, but live your dream"
(by Ramon Besselink)
    Welcome to Nafiesa Arabians!
Our farm, Nafiesa Arabians, is located in the green country setting the "Achterhoek", in a place called Etten (Gelderland). It's a beautiful area surrounded by wide open fields and forest. Where wild animals are playing in the fields and different kinds of birds are flying trough the air. The pastures are surrounded by solid wooden and electric fences. It feels like a heaven of peace, a small paradise on Earth.
On our farm you will find large stables, birth and walk-inn stables, laboratory and more modern facilities.
The most influential foundation mare in the breeding program of Nafiesa Arabians is our classic beauty Kenelm Mona Ghalia (Monogramm | DSA Ghalia). She is like a polished diamond and a consistent producer of high quality progeny. We added three of her daughters to our broodmare band.
In our bloodlines you will find mostly Monogramm and Ali Jamaal lines. Both stallions are legends and had a big influence in the breeding of the Arabian horse world.
Since we started with breeding, in 2006, we already used Egyptian related Arabian horses. In 2011 we bred our first Straight Egyptian. Crossing these lines proved to be a successful combination.
Our goal is to breed a high quality Arabian horse who can be used on a high level in show, different kinds of sports and breeding. What we like to see in our horses is a correct conformation, strong legs with good bone structure, powerful movement, friendly character and lots of type.
Now 10 years later, we are very satisfied and pleased that our queen, Kenelm Mona Ghalia (Monogramm | DSA Ghalia) get the titel *KEUR! Nafiesa Malaika, Nafiesa Malika and Nafiesa Ma Ajmala made this happen for her.
Over the years our passion for the Arabian horse has grown. A life without a Arabian horse is a life without a soul. They are sensitive, smart, hard working and have a awesome character. It's a sense of feeling. Its a blessing to have them in our lives and working with them.
You are most welcome for a visit by appointment.
Latest news
Here you will find our latest news. You don't want to miss anything? Than subscribe now to our newsletter, below this page.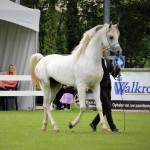 9 June 2017
Last weekend Nafiesa Makito compete successful at the Nat C-Show in ST Oedenrode. In his class he won the 1st place with a nice score of 90.25. In the championships he was awarded for Silver Medal! We enjoyed his performance a lot, even he did. Especially because he is growing so much lately, we diddnt expect that he would move like this! So now its time for Nafiesa Makito to enjoy the fields at his "home" by his handler.